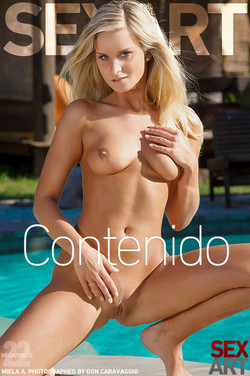 Miela A: "Contenido" by Don Caravaggio
The naughty and curvy blue-eyed blonde named Miela puts up an erotic show of her breathtakingly slender physique and well-tanned assets.
It's summer and Miela is spending her vacation in SexArt's private resort. The stunning blue-eyed babe loves basking in the sun and getting that perfect tan. Wearing a printed blue and green two-piece bikini, she lounges by the pool, soaking in the morning sun's warm light. But knowing that Don Caravaggio is shooting her, the curvy blonde puts up a naughty show of her smooth and tanned assets.