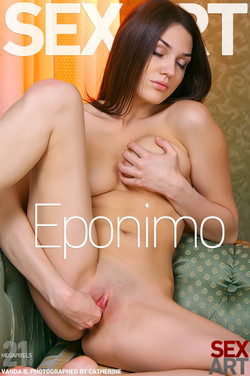 Vanda B: "Eponimo" by Catherine
The classy and sultry Vanda enjoys a sensual masturbation on top of the green sofa, satisfying her pink, wet orifice with a silver vibrator.
On top of the elegant green sofa, Vanda possess confidently in her off-white crocheted dress. Her long, shiny brown hair falls limply below her shoulder, framing her pretty face with well-chiseled features. With a shy smile, she carefully strips off her dress, revealing an enviable slender physique with long and svelte limbs. Vanda always has that sultry yet classy elegance about her, and that makes her more stunning on-cam. She never loses her feminine aura even she's already hot and horny.