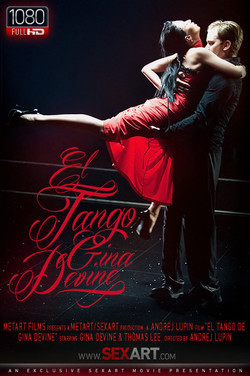 Gina Devine & Thomas Lee: "El Tango de Gina Devine" by Andrej Lupin
Gina and Thomas dances a slow and sensual dance of tango as a prelude to a passionate and hardcore sex.
While some couples go on a fancy dinner or a romantic movie to set the mood, Gina and Thomas dances tango to seduce each other. The orquesta tipica plays a familiar song and you could see the excitement in their eyes. With smooth, sensual, and dramatic movements, they dance and slither their passionate emotions for each other. Gina feels this electrifying sensation coursing throughout her body and Thomas' touch makes it more intense. It doesn't take too long before they are naked before each other, eager to satify this burning desire to feel and taste each other's body.