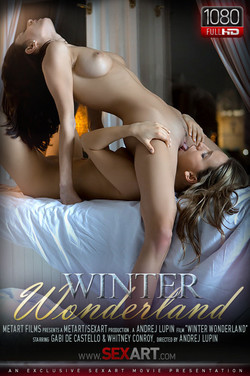 Gabi de Castello & Whitney Conroy: "Winter Wonderland" by Andrej Lupin
Gabi and Whitney caps off a perfect dinner date with a romantic and uninhibited girl-on-girl action on top of the bed.
After spending a romantic dinner in a local restaurant, Gabi and Whitney comes home with the mood for some lovin'. To cap off their date, they have planned to spend the rest of their evening in Whitney's house. The house has a laid-back yet elegant ambiance, with its native lamps with soft amber glow and cream-colored draperies. A soft romantic music is playing in the background, adding to romantic ambiance of the place as Whitney carefully undress her partner, Gabi. On top of the soft, white bed, they take turns in pleasing each other's pussy with a mind-blowing clit sucking and a lot of tongue action.